The Newcastle General Liam Lynch Memorial Committee (founded 1934) have events planned on Easter Saturday (8th) and Easter Sunday (9th) with the main Centenary Commemoration event taking place on Easter Monday April 10th 2023.
This Event is now Over

Order your Collectors Item Commemorative Calendar Now.
Secure your Limited Print Edition General Liam Lynch Commemorative Calendar by purchasing online now.
Be the First to secure your limited print edition General Liam Lynch Commemorative Calendar by purchasing online now CLICK HERE.
This high-quality commemorative keepsake features a stunning collection of photographs and written paragraphs, including a calendar, that honours the legacy of Liam Lynch and the events of the 1919-1923 period. Each page is meticulously designed to perfection, it's an authentic collectable ,with very rare eyewitness accounts. Secure your piece of history and cherish Liam Lynch's legacy by placing your order for the Liam Lynch Commemorative Calendar today!
There is a Limited Print Run on these and we expect them to sell out fast. They will be on sale in local shops and at all of our events over our commemoration Weekend. If you are not in a position to get one locally, you can order one online. From next weekend they will go on sale in the shops or you can order yours online today.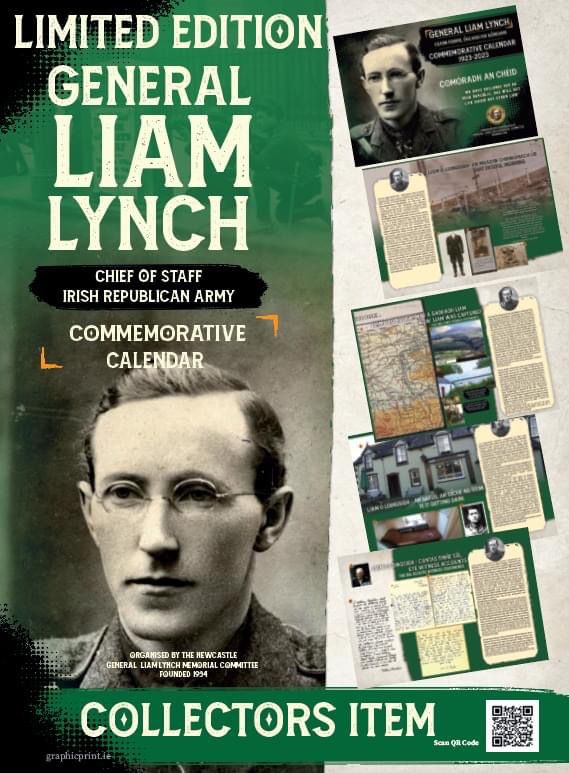 Latest Instagram Posts

The Chairman, Tipperary TD Mattie McGrath, and the Newcastle General Liam Lynch Memorial Committee look forward to welcoming large crowds to Newcastle across Easter Weekend and the Committee hope that their full programme of commemoration events will adequately celebrate the centenary of Lynch's death and honour the memory of a man who was prepared to lay down his life and refuse to compromise his belief in a true 32 county Republic of Ireland.